Striving to promote growth strategies and develop human resources for a 100-year company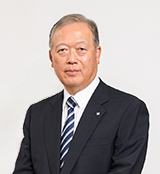 Thank you for visiting the IR section of the Kyoei Steel website.

It is my pleasure to use this opportunity to communicate with shareholders and other investors as the new president of Kyoei Steel.

In our Medium-to long-term business vision, we have outlined three growth strategies: (1) prevail in the domestic steel market, (2) promote the overseas steel business, and (3) expand the material recycling business, and we are working together to achieve this goal.
Over the past three years, we have made significant progress in promoting Overseas Steel Business, such as increasing production capacity in southern Vietnam (2015), reentering to the U.S. (2016) market, and conversion of a steel minimill company in northern Vietnam into our subsidiary (2018).

In southern Vietnam, a port facility that had been under construction at a subsidiary was completed and the subsidiary began operation in January this year. I believe that the stage for overseas growth is well established. One of my roles is to raise the profitability of the overseas steel business to a level comparable to that of the domestic steel business.

I also believe that the development of the next generation of human resources is an important task. There is no doubt that it is human resources that support a company and realize its growth. With the aim of realizing a 100-year company, we will put more effort into nurturing personnel who lead the Kyoei Steel Group to the glorious future.

As the global situation, economic environment, and technologies change so rapidly, and the business environment surrounding us becomes increasingly severe, social demands for corporate governance and compliance are increasing, and the ideal form of the corporation itself is being questioned. By building a management structure that can respond to changes more than ever before, we aim to increase our corporate value.
June 2018

Kyoei Steel Ltd.
Yasuyuki Hirotomi, President