Contributing to realization of a sustainable society, continuing to take on challenges toward the future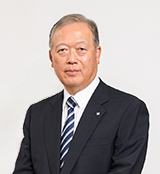 Thank you for visiting the IR section of the Kyoei Steel website.

It is my pleasure to use this opportunity to communicate with shareholders and other investors as the new president of Kyoei Steel.

In April 2021, Kyoei Steel, Ltd. has established a new medium-term business plan called NeXuS 2023 that covers the three-year period ending in March 2024 (FY2024).
The new medium-term business plan has the following basic policies, all of which reflect an assessment of accomplishments during the previous medium-term business plan and the current business climate.
Activities for growth
Overseas Steel Business – Become more profitable and build a base for growth
Domestic Steel Business – Become more competitive and upgrade equipment for more progress in the future
Material Recycling Business and peripheral steel businesses – Increase opportunities to earn profits
ESG initiatives and establishment of a stronger foundation for growth
More activities for carbon neutrality and the recycling and reuse of resources
More activities that benefits for all stakeholder
Strengthen management framework of the Kyoei Steel Group

Since its inception, Kyoei Steel has been guided by the corporate philosophy of "using steelmaking to contribute to society." The core electric arc furnace business recycles resources by enabling the use of steel scrap for the fabrication of other products. This plays an important role regarding the goal of achieving a sustainable society.
We will work on coexistence with the global environment, nature and communities by further developing technologies for recycling steel resources that we have established.
Aiming to become a 100-year-old company, we will continue to take on challenges toward the future while asking ourselves what we can do as a steel minimill company.
April 2021
Kyoei Steel Ltd.
Yasuyuki Hirotomi, President