I-beams that are ideal for residential drain covers (gratings).
KYOEI STEEL is one of the leading manufacturers of I-beams in Japan.
The company also develops and produces anti-slip I-beams, which ensure people are safe.
They are used in passageways in plants, stairs, and floors of clean rooms.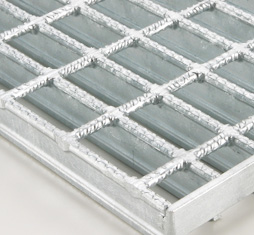 I-beams are used as the main materials of gratings (steel drain covers) installed in residential areas (houses and apartments), around office buildings, and by the roadside.
Gratings are widely used products in factories and as floors and stairs of plants, bridges, and ships.
KYOEI STEEL has the largest market share of I-beams in Japan. We offer anti-slip I-beams in addition to the regular types (plain I-beams).

There are two types of anti-slip I-beams: one is for roadways that has deep anti-slip grooves (NS-I beams), and the other is for sidewalks that has shallow grooves (G-I beams) to ensure people are safe.